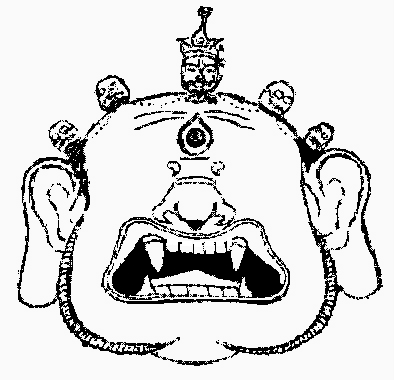 We're in an terrible bad mood...bordering on evil. Some days we like it, some days we don't. Today it's mixed with anxiety, and anger... frustration...and a feeling of impending doom. We woke up with, and spent most of the day with, some wicked headaches.
We didn't write yesterday, we know. Instead we played a ToD (That's Tweet of the Day - it's a Favstar thing <-that link takes you to Favstar) on Twitter with our friends & followers, and played a couple of races on Mario Kart (we bought a Wii last weekend!) - meanwhile...there is info over to the right, we're going to add all of our user ID's (for each game, that is) so our online friends (almost the only friends we have) can play some Wi-Fi enabled games with us - the list of what we have so far is over there on the right, below the Bloggers Choice voting spot.
Speaking of The Bloggers Choice Awards, if you have a minute, could you vote for our blog? In as many categories as you see fit (there are four that fit our blog)? It would be pretty cool...though the competition is stiff...and we have no idea how to generate votes yet. Maybe next year...or in a couple of weeks, when we move; y
eah, we're moving, we've written all over the blog about it the last couple of weeks...check out some of our recent writing and find out about from where, why; and to where...or generally to where [we're not ready to admit/reveal our location(s)]...and we're going to go on an adventure next year...lots of changes, lots of changes...
Speaking of, our doomed feeling is being facilitated by The Boyfriend...who is totally freaking/stressing out about us moving him to the states with us in a few weeks...it looks like it's going to be a lot of work...or work around...a headache really. He's worried they won't even let him in the first time, for three months, let alone ever and for any real length of time.
We're trying to keep him calm, but it's hard, you know? We have a lot of stress, we have to evict our tenants, who we wrote about on Sunday...sometime in the next couple of days. We were told we are only required to give them 24 hour notice, due to a month-to-month lease and them not paying their entire rent for the past two months; but likely we'll give them a week. We also hope to be able to get a police escort to the house to serve the papers...if you've read about Sunday you know why.
Good news though, the police recovered our video camera that the last tenant stole and tried to pawn, unfortunately none of the other things that were stolen, like our paintings and power tools... Sadly we found out the backdoor of the house that's been broken since the previous tenant took off was broken by the cops in a search warrant raid...something about drugs. In any case that means the city should be responsible for fixing that, hopefully...but also means we're going to have to go talk to some city official. This is stressful. This is all stressful.
Friday is our last day of work, holy shit are we excited about that, but then we have loads and loads of stuff to do, utilities to cancel on two properties, a real estate agent to hire, the house to clean...and fix...because the low lifes who have lived there in the last year have turned the place to a shit hole; plus packing up our apartment...getting the medical papers for the cats in order...we have a huge list (that we've been working on while we work).
So...we don't know. We're like an anxiety attack waiting to happen...no side of panic. Panic isn't our thing...at least I don't think so; it's not mine anyway.
Our system mix today/onight is erratic...we're going to go do some shopping (printer ink)...and maybe order pizza...not particularly hungry, but we haven't eaten much today...
~Catherine & Sam (and we're "et al" like crazy tonight...we feel bad for James/The Boyfriend)